Our school is in southern Tuscany , in the picturesque Orcia Valley in the province of Siena.
Uncovering the past
Tuscany borders on Latium and Umbria to the south and is one of the oldest historical regions of Europe. The Italian language and culture have their roots here. Based at our school you can discover every historical era, from the Etruscans and Romans , to castles and monasteries of the Middle Ages , the Gothic art of Siena and the Renaissance in Pienza. The Roman road Via Cassia is still used today, and you can walk the Via Francigena , built in the Middle Ages, towards Rome. Both roads will take you to Monte Amiata , situated 20 km to the south, an extinct volcano and now a paradise for walkers and mushroom-pickers , and in winter for skiers. Below the mountain y ou can also relax at the thermal baths of Bagni San Filippo and Bagno Vignoni .
Natural and culinary delights
Also familiar features of southern Tuscany are of course the tall cypresses and ubiquitous olive trees, which give a high-quality oil. In contrast, the Crete senesi give the area around Pienza a special character. The barren hills, in places resembling a moonscape, are home to only large herds of grazing sheep. The local Pecorino (sheep's cheese) gets its particular flavour from the herbs and grasses that grow here.
For anybody who likes to see art in a natural setting we can recommend the Italian gardens of the Origo family in La Foce, the Horti Leonini in San Quirico, Daniel Spoerri's sculpture park in Seggiano and the Giardino dei Tarocchi of Niki de Saint Phalle in Capalbio-Garavicchio.

And the wines of Brunello, Nobile, Chianti? Like the regional cuisine, these are waiting to be discovered when you arrive in Orcia Valley.
"Agriturismo Sant'Anna in Camprena" (former Benedictine monastery, 10 minutes walk from the school).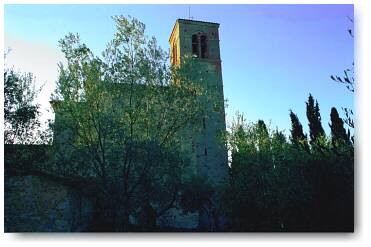 "Agriturismi" (farmstays) and hotels in Pienza and accommodation with families, arranged by us to suit your requirements.
• from Rome airport: regular fast trains to Chiusi-Chianiano Terme station. From there, take a bus or taxi (information about timetables and prices on request)
• from Florence airport: bus to the main station and from there: direct bus to Pienza
• from Siena railway station: direct bus to Pienza or by train to Buonconvento and further connections by bus or taxi
• from the A1 motorway: take the Bettolle-Sinalunga exit if you are coming from Florence or the Chiusi exit if you are coming from Rome